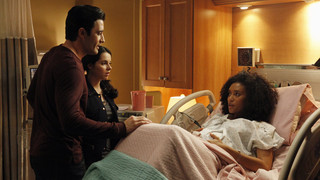 S2
E10
Introducing the Miracle
---
After Daphne's negotiations with the school board, the board agrees to keep Carlton open but only 50% deaf. Adrianna returns and helps Regina comes to terms with her alcoholism. Angelo offers to pay for Regina's rehab, and she agrees to go, knowing that she must leave Daphne under the Kennishes' care while she is gone.
Bay breaks up with Noah when she realizes he has feelings for Daphne. This puts Bay and Daphne at odds, on top of Bay still feeling hurt by Daphne's stance on hearing students, during the sit-in at Carlton. Patricia Sawyer withdraws from the race, and John Kennish wins the state senate seat. Meanwhile, Toby and Nikki shock everyone by getting engaged.
Lana gives birth to a baby girl and disappears with the baby soon after.
Continue Reading