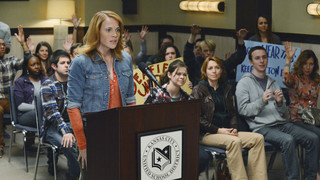 ---
Bay tells Daphne that Regina may be drinking again, but Daphne quickly shuts her down. Melody encourages Travis to consider applying to college to become a teacher. When a cast member drops out of the play, Kathryn asks Daphne to play Juliet to Noah's Romeo, and the two get closer. Bay convinces Regina to invite Zane over for dinner, so she and Daphne can meet him.
Students start dropping out of the school play in protest of Carlton expanding the hearing program. Daphne is caught between Kathryn's play and her loyalty to Carlton. Kathryn and Melody get in a fight over Melody taking Kathryn's cast to protest at the school board meeting, which Daphne also chooses to attend despite Kathryn's disappointment. Bay tells Zane that Regina is an alcoholic, and Regina is livid when she finds out what Bay did, but she comes around and tells Bay she will work on getting better as long as it stays between them. Noah takes Daphne's advice and gets a hearing aid. Emmett surprises a delighted Melody by suggesting Travis move in with them. Despite the adamant protests of Melody, Daphne and her classmates, the school board shocks everyone when they vote to close down Carlton altogether.
Meanwhile, Toby and Nikki get back together.
Continue Reading