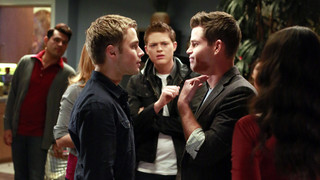 ---
Kathryn sees Daphne's bruise from the attack, but Daphne continues to hide the truth from everyone. Having patched things up with Angelo, Bay plans a Valentine's Day party at his apartment and invites all her Carlton friends, including Noah, who is giving her mixed signals. Bay also invites Emmett to the party but is surprised to learn he has other plans. Melody's deaf studies class starts having a big impact on Daphne, especially since the attack.
Nikki and Toby say that they love each other but then Nikki breaks up with him later when she realizes they will never have the same religious beliefs. Angelo convinces Lana to chaperone Bay's party with him, so they can discuss Angelo's hesitancy at putting the baby up for adoption. Daphne tries to take the food truck out but is quickly consumed with fear. Daphne confides in Melody about the attack then goes to the police with Regina where Daphne is frustrated by the police officer's ignorance about deafness.
Regina and Kathryn are livid with John when they learn he sold Daphne's food truck without telling them. John ends up buying the truck back, and the three of them share an unconventional Valentine's Day together. Travis and Noah get into an unexpected fight at Bay's party, and Travis punches Noah, making Daphne question her relationship with him. Bay tends to Noah, and they end up kissing.
Continue Reading