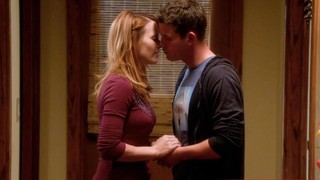 S2
E04
Dressing for the Charade
---
Toby surprises everyone when he invites Lana to dinner. Meanwhile, Angelo continues to try to patch things up with a disgruntled Bay. Daphne discovers Travis is being kicked out of his house, and confronts Travis' mom about it to no avail. Frustrated with John's political campaign, Kathryn invites Regina to go out to a jazz club and let off some steam. At the club Regina runs into her old friend and musician, Zane, and sparks fly between them.
John's political opponent launches a TV ad against John, and his campaign manager advises John to retaliate. Lana comes over for dinner, and the Kennishes learn she plans on putting the baby up for adoption. During dinner an investigator shows up to check on Regina and Angelo's marriage. The Kennishes, Regina, Daphne and Travis takes part in trying to hide the fact that Regina's still living in the guest house. But when Regina and Lana finally come face to face, the truth comes out.
Daphne realizes she may have romantic feelings for Travis, and they kiss.
Continue Reading