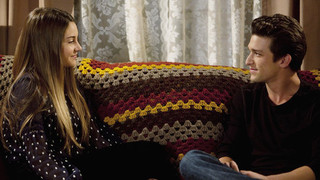 ---
George calls Anne, who is in France, and tells her that he can't do it anymore—they are officially over. Kathleen makes George talk to Tom about moving back into the main house after getting pulled over by the police. Kathleen also makes a deal with Grace: if Grace talks out her issues with Jacob, she can move into the guest house.
George asks Amy to quit her job at the nursery to care for Robbie, but Amy thinks George only asks her to do this so that he can see Kathleen. Bunny finds out that Ben broke into the shop with Dylan on their date and isn't happy. Meanwhile, Dylan isn't happy that Ben still talks to Adrian and Amy, so she drops in unannounced at Adrian's place to get to know her better. Ben is upset at Leo for not giving him the divorce papers right away, but he has to go to Adrian's before any trouble starts.
Omar gets upset with Adrian for obsessing about the divorce and not spending time with him besides sex. George tells Kathleen he's interested in a relationship. Grace bonds with Jacob and discovers her father knew Jacob's mother before he even met Kathleen.
Continue Reading