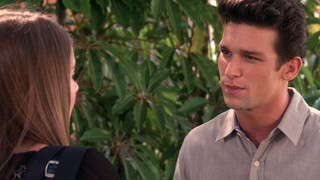 S4
E17
Suddenly This Summer
---
Anne and George get into a fight because Anne wants to take Robbie to Europe, and George prefers Robbie stay home with him. George is also still convinced Anne has feelings for Nora. Amy lashes out at her parents and Ricky about wanting to be a normal teenager for one night. Ricky attributes her attitude to her period, but Amy reveals to Lauren that she is late and thinks she might be pregnant again.
Ben tries to persuade Dylan's parents to let them date; however, they will not budge, especially when they discover Betty used to be a prostitute. Betty's lawyer tells Leo that he owes Betty three million dollars. Leo sends Betty a check for the amount, but she doesn't cash it because she never wanted his money--she just wanted to know that she mattered to him. Mercedes and Wendy, tell Leo that Dylan's dad's nickname is "Pudding Pop," so Leo calls Dylan's dad, Robert, and calls him by his nickname before telling him his that ex-wife is not a prostitute.
Grace is anxious for Kathleen's return and asks Jack to have sex. But when he arrives, Grace changes her mind, and they agree to try to be friends. Adrian opens up to Omar about wanting to be a lawyer. Amy finally reveals to Ricky that she's late, so he goes to get a pregnancy test outside of town to prevent rumors from starting. By the time he gets back, Amy tells him it was a false alarm. Meanwhile, Kathleen upsets Grace when she returns home with Jacob, Grace's half brother.
Continue Reading