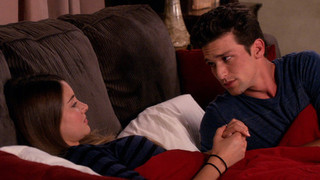 S4
E14
Smokin Like a Virgin
---
Ben and Dylan talk to each other for hours on the phone and learn that they have a lot in common. Dylan's parents worry about her new love interest because of Ben's past drama, but Leo encourages Ben to ask her on a date.
Daniel apologizes for leaving Grace at the party, but Adrian is upset when she doesn't hear from Omar. Raven sends Daniel an incriminating photo of Grace kissing Jack, so Daniel breaks up with her. Jack overhears their breakup, but Kathleen suggests that maybe it's time for Jack and Grace to just be friends. Meanwhile, Madison reaches out to Henry since he's her only potential friend now that they both upset their best friends. Henry tries to apologize to Ben, but Ben says their friendship is over.
Amy reveals to Ricky, George and Nora that she wants a long engagement and isn't ready to get married yet. Ashley surprises her family and comes back home, but she gets in an argument with Amy. Adrian convinces Grace to join her in summer school and move into the condo with her, so they can support each other over the summer. Amy also surprises Ricky when she considers summer school, but Ricky doesn't like the idea.
Dylan is upset because Ben ends up cancelling their first date. Dylan shows up at Ben's along with Mercedes, Raven and Wendy wondering why he broke their date. Dylan's parents come looking for Dylan at Ben's house, and along with Leo, they catch Ben, Dylan, Raven, Mercedes and Wendy smoking pot.
Continue Reading