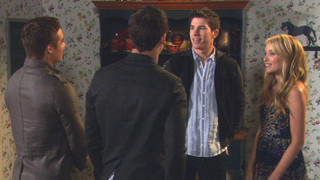 ---
Ashley talks to Griffin about her complicated relationship with Ricky, and the kiss between them that has caused Amy to stop calling. Ashley also wishes that Grant would call her again. Instead, Griffin sets Grant up with Grace, who is looking for a new date. With this plan in motion, Grace also plans to set Griffin up herself, with a young man named Peter. At Grace's get-together, Griffin meets Peter, who tries to admit that he's straight, but Griffin knows this is not the case.
Ashley's hope for Ricky is revived when her parents announce that she will be left alone tonight with Ricky for dinner. Meanwhile, Ricky and Ben are having an argument over who really deserves to be with Adrian—Ricky clearly has feelings for her, yet Ben feels he owes himself to the baby, though he still has feelings for Amy. Leo shows up and pressures Ben to marry Adrian, but he is horrified by the idea.
When Ricky meets with Ashley at her house, he tells her that he's going to talk with Adrian. Ricky and Adrian have a romantic reconciliation, while Ashley looks on from afar, heartbroken. Later, Amy calls Ashley, finally expressing her concern for her sister and Ricky, and admitting that she is giving up the French horn. When Ricky leaves Adrian, Ben calls and promises to be there for the baby. Adrian quietly admits to herself that she still may still love Ricky.
Continue Reading