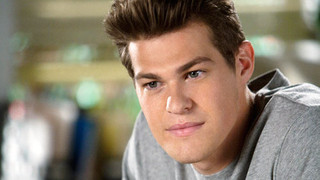 S2
E06
The Summer of Our Discontent
---
School's almost out, summer's almost here ... so what's got Grant High so glum? Madison, Jack, and Ben have started a Dead Parents Club (since they've all lost a parent) ... not exactly the cheeriest thing on the planet.

Neither is Grace -- especially since Jack's told her he's off to football camp for the summer, leaving her all alone. So now that she's decided to quit cheerleading, her summer's looking pretty bleak. That is, until Marc Molina tells her she got accepted to the Doctors with Boarders summer training program, an immersive pre-premed program her dad signed her up for months ago. She isn't exactly interested, but will she do this last favor for her dad?

Amy's glum because the yearbook just got published -- with a full-page picture of her as "The Pregnant Girl": not exactly how she wants to be remembered. Things get even worse when she learns she got incompletes in three classes and needs to do summer school. And, even though boyfriend Ben is about to fly off to Bologna for the summer, he ain't so happy, either. First, Amy turns down his offer to spend a romantic last evening together (she's too tired), and second, Grace blurts out that his dad's soon-to-be-wife, Betty, is definitely a prostitute. Ben wants to say something to Leo, but how does a son have THAT conversation with a dad?

Ricky, meanwhile, is about to move into his own place above the butcher shop, but when Adrian wants to come over for some late-night fun, he says he's got responsibilities now: namely, being a father. Adrian's not thrilled: Ricky getting his own place means much more freedom for him -- and more chances to lie about what he's doing and who he's seeing.

Things aren't going any better for the adults. George just got served with divorce papers, finally, and Anne wants him to sign them -- immediately. She's accepted David's marriage proposal -- he's even introduced her to his parents -- and the two plan to tie the knot. Speaking of tying knots, George still hasn't told Anne about his big lie (you know, the vasectomy he never had, which means Anne's baby is probably his, not David's). But would that change things?

Adrian certainly hopes so. That's why she makes a house call to George and tells him Cindy and Ruben are looking to buy a place ... and she wants it to be his. George can move back in with Anne once he reveals his lie, and Adrian can spy on Ricky. Um, everybody wins? Kinda?

At the Boykewich residence, Ben finally confronts Leo about Betty. Turns out Leo's known all along about her past, because she was honest with him from the beginning. And he doesn't care, because that was her past, and he's looking forward to spending his future with her. Aww.

At the Bowmans', another couple is looking forward: Grace is over being mad at Jack about football camp, and she's decided to go to the pre-premed program after all. It may be a long summer apart, but this smiling couple sees a long future together too.

Finally, at the Juergens place, George wants to take Ashley away to tour the country in an RV. He wants out. But first, he has to settle things with Anne. Yet when he says he needs to tell Anne something, she cuts him off and asserts that she's marrying David, and nothing George says can change her mind. Guess George will be signing those divorce papers, after all.

And right next door, Amy's in for an early-morning surprise when Ben drops by to say goodbye before leaving for Bologna. All seems great again -- until Ben sees Ricky in the kitchen. See, Ricky spent the night because he wanted to watch John while Amy caught up on some rest. Pretty innocent, but it sure doesn't look that way to Ben. He leaves in a cold fury as Amy stands there speechless. And let the summer begin ... .
Continue Reading