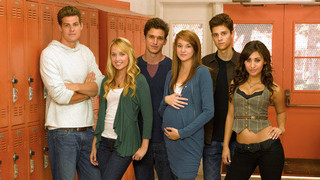 ---
Amy and Ben both have the blues because of their "break," and neither one is sure it won't lead to a full-on breakup. Hoping to salvage their relationship, Amy takes a wedding ring from Ashley (who got it from that waitress she worked with for a night, Veronica, who got it from her ex-husband). Also, Amy's banking on Donovan and Leon adopting the baby.

But while Amy's thinking up ways to get back together, Leo, Alice, and Henry are all convincing Ben it's best they stay apart for a while. The divisions at Grant High have formed, with Amy backed by Lauren and Madison (who's having her own problems with Jason, who let it slip that they only ended up together 'cause he's a "lazy dater"), and Ben getting support from Alice and Henry. Trouble is, neither Amy nor Ben really wants to hear their beloved trashed; they're just sad.

Meanwhile, Jack's not. He's busy gloating over the fact that Shawna lied -- she doesn't have a boyfriend after all. She also tells him that, yes, she does like him, which makes her the first girl Jack's been serious about since Grace.

And at home with the Juergenses, George sabotages a meeting Anne has with a prospective adoption couple. Then Anne intercepts a phone call from Donovan that clues her in on his adoption plans. While George and Anne are duking it out, Kathleen and Marshall finally make up over the fact that she lied about cheating on George. But is Marshall thinking of adding to their family by adopting another kid? Hmm ... .

Meanwhile, at Grant High, Ben's having doubts about his relationship with Amy, and he's looking for a sign that shows she still cares. Unfortunately, that sign comes in the form of her sharing a hug with Ricky -- not exactly the sign he was looking for. Speaking of Ricky, the two girls who love him, Adrian and Grace, have a name-calling, hair-pulling showdown in the hallway. It gets so out of hand that they end up laughing about it and rekindling their friendship over ice cream and hating on Ricky. Well, not that Ricky cares, because -- get this -- he's set his sights on somebody new: Amy. Yeah, Grace and Adrian saw that one coming too.

And in a neighborhood slightly farther away, Jack's mentoree, Duncan, isn't so thrilled about his sister's budding relationship with Jack. He's worried that 20-year-old Shawna could land in jail for getting with 16-year-old Jack, which would leave him all alone (their folks are gone). Well, that won't keep the two new lovebirds from going to church together on Wednesday anyway.

Back at the Juergens household, Amy's meeting with Leon and Donovan to seriously discuss an open adoption, and George is seriously apologizing to Anne for all his past mistakes. Doesn't exactly mean they're getting back together, though, which disappoints an already-upset Ashley. (First adoption, then divorce? Can't she just save this family?)

Jack drops in on Ricky at home to apologize for ratting him out to Grace about sleeping with Adrian. But Ricky's too busy reading about childbirth to care. And though Grace and Adrian are still busy pursuing him -- even though they promised each other they wouldn't -- he rejects them both. Hangs up on them! Could he actually be serious about courting Amy?

Well, if he is, he'd better be prepared to win her over, 'cause she's still trying to win over Ben, who keeps ignoring her phone calls. So, she shows up at his house, ring in hand. Could this be the peace offering that brings them together? Alas -- Leo intercepts her at the door and tells her Ben needs time to think it over. Poor Amy is left all alone on the porch with a ring in her hand ... and her heart on her sleeve. Is this the end for Amy and Ben?
Continue Reading