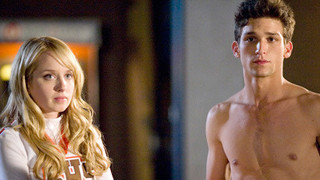 ---
The whole town's thrown into a tizzy when good girl Grace is caught on tape doing something bad. When two guys harass her on a street corner after dark (following another of her secret meetings with Jack, of course), Grace rises to the occasion and threatens them with a broken beer bottle, street-fighter-style. All of a sudden, Ricky jumps in to save her, and both of them are caught on camera … and Ricky's not wearing a shirt. (That's because he'd just been sleeping at Adrian's.) Thanks to the local news show, which airs the whole thing, these two would-be warriors become overnight celebrities.

While the Bowmans are trying to figure out how to punish Grace for going behind their backs, the Juergens see Ashley suddenly turn into a good girl, which raises red flags. As does a certain piece of gossip dad hears at the store, about one of his girls having sex (wonder who THAT could be?).

Looks like Amy can't keep her big secret under wraps much longer, because by now the whole school knows she slept with Ricky … and the Bowmans know she's pregnant. Even AMY is ready to spill the beans, but her parents don't believe her when she confesses she's been having sex. Maybe they're just too distracted, what with Anne being so busy worrying about whether or not GEORGE is having sex — with another woman.

Meanwhile, Grace decides to punish herself by quitting the cheerleading squad, and to punish Jack by taking Ricky to church. Jack's got his own tricks up his sleeve: He's going to take Adrian to church too. While those four are going at it, Ben and Amy are working out some serious relationship issues — especially after Ben's dad brings up the suspicion that Amy might be pregnant.

Is Ben going to use their study session as a chance to confront Amy? And where is Amy's dad going with that overnight duffel bag? Guess we'll have to wait and see.
Continue Reading