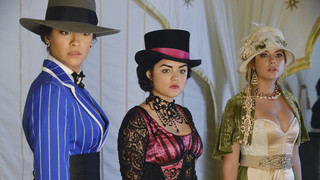 ---
Aria, Emily, Hanna and Spencer crash the Ravenswood Founders Day Celebration after finding a clue in "A's" new lair that Ali may indeed be alive. Dressed in their finest Edwardian wear, the ladies hit the creepy cemetery party to find Ali before "A" can. But before they can get started on their sleuthing, Aria's phone rings. It's Ezra! She tells him now isn't a great time to talk --- she's in Ravenswood. "Aria, you need to be careful," Ezra warns. Aria promises him she will and hangs up. As the Liars walk toward the party, Ezra steps out of the shadows and watches them. He made the phone call from the cemetery!
As the girls head off on their quest for answers, Aria, Spencer, Emily and Hanna realize there's more to Ravenswood than meets the eye. "There is something seriously weird going on in this town," Aria laments. "Uh, gee, you think?! They're using headstones for barstools!" Spencer responds. Their banter is interrupted, though, when they spot a blonde in a red coat. "Is that Ali?!" they wonder, and quickly run after her. The Liars end up in a mausoleum – but the blonde is nowhere to be found. Spencer discovers a secret passage, and things quickly go from creepy… to dAngerous.
Meanwhile, Caleb heads to Ravenswood to help the girls and meets Miranda on the bus ride there. He learns that Miranda is heading to Ravenswood too – to see her Uncle, the only family she has left. When they arrive in Ravenswood, they set out on their separate missions. Miranda heads off to find her Uncle, and Caleb is looking for Hanna. He's worried about her… and he should be. Hanna gets separated from the Liars and is in desperate need of help as "A" lurks in the shadows.
As the Liars go searching for Hanna, Spencer has a terrifying run-in with "A," which she luckily survives. When Aria and Emily find her, they are all understandably ready to hightail it out of the creepy mansion they've found themselves in. But first, Ms. Grunwald has a warning for them concerning Ali: "One of you has been touched by the one Alison fears the most."
Elsewhere, it's Miranda who finds Hanna first. They eventually track down Caleb, and as the trio are on their way to reunite with Aria, Spencer and Emily, Miranda discovers something extremely unsettling –- a grave marker with her name and photo on it. Once everyone is reunited, Miranda decides it's time to head back to her Uncle's. Hanna doesn't want her new friend to be alone while trying to find him, so Caleb volunteers to stay behind and make sure she's safe.
The problems don't end here for our Liars. They have car trouble before they can even leave Ravenswood! Surprise, surprise… Ezra arrives on the scene to help. No longer in his Founders Day Celebration attire, he claims he was worried about Aria so he made the drive. The Liars have no reason not to believe him, so they let him drive them back to Rosewood.
After he drops them off at Spencer's, they see the blonde in the red coat once again. This time, they catch up to her. When she turns around, it's Alison! "Did you miss me?" she asks. She tells the girls it's still not safe for her yet. "I want to come home," she says. "But you have to help me." The Liars are distracted when Ezra returns the scene with Aria's cell phone. When they all turn around, Ali is nowhere to be found.
Continue Reading