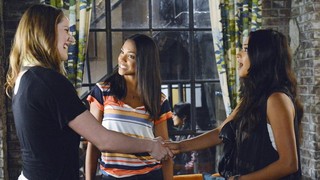 S3
E22
Will the Circle Be Unbroken?
---
Dr. Sullivan finds Spencer at Radley, where Spencer explains that she's taking a break from being Spencer Hastings. Later, Spencer meets Eddie Lamb, the nurse Toby was impersonating to get in and out of Radley. And Mona visits Spencer in Radley and tells her that Ali was never pregnant; she has Ali's diaries.

Aria tells Byron about Malcolm, and asks him if he can help Ezra find a teaching job. Byron and Ella discuss that not only will helping Ezra find a job enable him to care financially for Malcolm, but that it might also help drive him and Aria apart. When Ezra applies for a substitute-teaching job, his social relationship with Aria comes into question.

Wilden, acting as if nothing ever happened, shows up at the church where Hanna and Ashley are about to grab a coffee with Pastor Ted. Later, Wilden tells Hanna all she has to do is give him his car keys, tell him where his car is, and all will be forgiven.

Meanwhile, Shana introduces Emily to Olympic gold medalist Missy Franklin!
Continue Reading