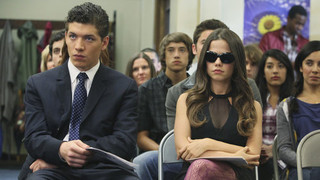 S1
E08
Please, Do Talk About Me When I'm Gone
---
As Aria, Spencer, Emily and Hanna begin to prepare for Alison's memorial, they must contend with Alison's older brother Jason arriving in Rosewood a changed man – the formerly gawky and gothic outsider is now as polished as a preppy politician, and he's got plenty of plans for the memorial of his own.
Jason surprises the girls with news that Jenna has asked to speak at Alison's memorial, and he's agreed to let her much to their chagrin. At the memorial, the girls are stunned by the sudden reappearance of Ian, Melissa's ex, but even more surprised when Jenna takes the stage. As they wait with bated breath and anxiousness as to what she will say, or worse yet, spill - in the end, she offers quite possibly the kindest words for their dearly departed friend. Whether her moving speech was actually sincere, the PLLs can't be sure, because it could just as easily be another trick up Jenna's sleeve.
Hanna pushes an uneasy Aria closer to Noel Kahn, and gets her to agree to a double date to a Band of Horses concert. Soon Aria discovers that there's more to Noel than meets the eye; he's not just the pretty boy jock she assumed he was, and they in fact share a lot of the same interests.
As the Marin's financial woes grows deeper, further evidenced by one of Hanna's credit cards being declined, Hanna steps up and decides to help out in a rather unorthodox and un-Hanna way: she agrees to put up a lot of her old clothes and handbags up for auction online with the help of new ally Lucas.
Meanwhile, Emily and Maya's relationship blossoms, as well, going so far as to make out at Rosewood's theater during their very first official date.
Continue Reading