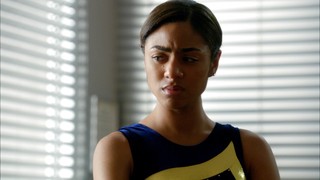 ---
The doctor that Payson found performs the non-invasive heart procedure on Lauren -- but Lauren continues to have abnormalities that prevent her from training. Payson challenges the doctor to create a remote device that will monitor Lauren's heart and indicate when her stress level is too high. Later, Jake helps Lauren go over her routine in her mind and the two form an even closer bond.
Coach Ray, who once coached Jordan and Kaylie when they were younger, arrives at the USATC as the expert choreographer for the floor routines. Jordan appears less focused since the arrival of Coach Ray, despite the fact that Ray helped her create the famous "Layout Jordan" move she is known for.
Meanwhile, Wendy learns that Coach Ray thinks Kaylie is Wendy's biggest threat and she begins to spike Kaylie's smoothies with pseudoephedrine, a known banned substance found in cough syrup. And Payson learns that Coach Ray plans for her to compete as the leadoff position, a position that never brings home the gold.
Jordan realizes that Coach Ray is taking a special interest in Wendy she becomes outraged. Jordan violently attacks Coach Ray's car and when Kaylie tries to stop her, she reveals that Coach Ray sexually assaulted her for years.
Continue Reading