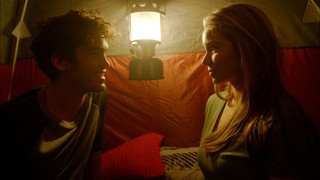 S3
E06
Listen to the Universe
---
Payson convinces Kaylie to resolve her disagreements with Jordan since it's very likely Jordan will be a part of the team in London. Coach McIntire grills Jordan about her lack of team effort, and Jordan later decides to accept Kaylie's friendly advance.
A heart surgeon informs Lauren and Steve that Lauren has a particularly rare form of Supraventricular Tachycardia, a heart rhythm disorder, and the best possible treatment is open heart surgery. This treatment will require several months of rest before she can return to normal activities, shattering the possibility of training before the 2012 games.
Worried that Lauren hates her for outing her sickness, Payson inquires to Steve if there are any other options for Lauren. Steve shares with Payson the name of a surgeon who pioneered a new noninvasive procedure which the doctor claims Lauren is not a candidate for. Refusing to accept this, Payson enlists Rigo to take her on his motorcycle to on an overnight trip to find the doctor and have him reconsider. Kaylie agrees to cover for Payson in her absence and even Jordan agrees to distract Wendy, their resident mole.
While Payson is off helping Lauren, Kaylie helps Austin adjust his floor routine for the men's qualifying rounds after he pulls a muscle. Later, Austin is cut from the men's team and he blames Kaylie for advising him to simplify his routine. Meanwhile, after spending a chaste night with Rigo on the road, Payson decides Rigo is the "one" and she loses her virginity to him the next night at the USATC.
Back at the hospital, Steve brings Summer to visit Lauren in the hospital in hopes of cheering Lauren up. To everyone's surprise, the doctor Payson sought out appears at the hospital to examine Lauren and reconsider her case.
Continue Reading