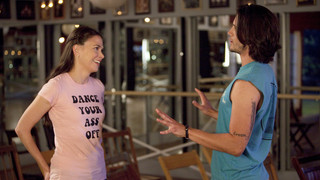 S1
E09
No One Takes Khaleesi's Dragons
---
Fanny is going overboard trying to find her new Clara for The Nutcracker. She's pushing all her dancers beyond exhaustion now that Sasha is gone. After Fanny and Sasha's falling out, Sasha joins the cheerleading squad but her snarky attitude gets her in trouble -- and she still refuses to apologize to Fanny. Later, Michelle tries to give Sasha a pep talk. She warns Sasha that quitting ballet forever would be a huge mistake.

The supermarket that Michelle had been looking forward to is not going to open due to zone violations so she calls a meeting to protest. Meanwhile, she meets Godot. But even though he's a total hottie, she feels he's too young for her and turns down his advances.

Melanie's brother, Charlie, has a crush on Ginny, but she awkwardly evades his advances. Although, she later reveals that she likes him too. Melanie warns Ginny that Charlie is off limits since Boo liked him first. Boo kisses Carl, but Ginny and Melanie interrupt them. And when Carl sees Boo get upset after she finds out Ginny wants to date Charlie, he leaves.
Continue Reading