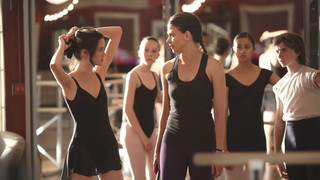 S1
E07
What's Your Damage, Heather?
---
In Fanny's absence, Michelle is teaching all of the dance classes plus the alternative classes just added. From beginner's ballet to cardio pole dancing, she's teaching everything – and is beyond exhausted. Thankfully, Boo is helping out when it comes to scheduling!

The changing room in the studio springs a leak causing Michelle to allow the girls to change in her house where snooping occurs. Sasha steals from Michelle and lies about it which makes Michelle become very authoritative with her misbehaving student. And Michelle hires a one-eyed plumber who Truly makes out with later on, although denies any sort of relationship thinking she'd be cheating on Hubbell.

Meanwhile, after an enlightening conversation with Michelle, Ginny decides to break up with her boyfriend of eight years leaving her mother devastated and very angry at Michelle. And now that she is no longer with Josh, Charlie (Boo's crush!) sets his eyes on Ginny. Uh-oh!
Continue Reading