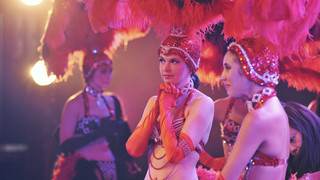 ---
Tired of her life as a chorus girl in Las Vegas, Michelle reluctantly agrees to marry the kindly Hubbell, who loves her dearly and promises to give her a better life. He brings her to his small hometown, where she is not exactly greeted with open arms. Hubbell's overbearing mother, Fanny, is appalled by the news of their marriage, and frowns upon the idea of Michelle moving in with them.
Fanny hosts a wedding reception, where Michelle interacts with the colorful locals, who all seem to despise her. The only people Michelle makes a good impression on are Fanny's ballet students, who are impressed with Michelle's real dance experience. Boo takes Michelle's advice on auditioning to heart, and feels inspired to try out for a prestigious local performance.
Out of nowhere, Michelle's unstable new life is rocked even further when Hubbell suddenly dies in a car accident…leaving Michelle very unsure of her future.
Continue Reading