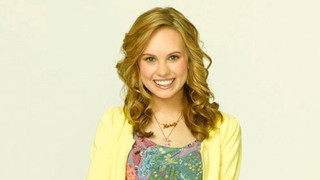 S1
E02
I Want You to Want Me
---
At cheer squad practice, Joey's watching Bianca's moves a little more closely than Chastity would like. Actually, a lot more. She gives Bianca a hard time for being out of the mascot costume, but Bianca holds her ground. Then Chastity announces she's found the best new pom poms, and they only cost $100 a pair. Most of the girls can't afford them, so Bianca offers to organize a fund raiser.

In the hallway, Kat gets her back up about Patrick giving her the eye while flirting with another girl. When she goes into the bathroom, she's freaked to see a guy come out of a stall and start hitting on her in a super gross way. She throws the perv out the door ... just as Patrick walks past.

That night, Kat's dreamily noodling with a shot of Patrick while reviewing yearbook photos at home. But she slams the laptop shut as Bianca walks in to ask for help inventing a fund raiser. Dad suggests a car wash, but Kat points out the "half naked" part, and Dr. Stratford abruptly bans the idea. The doorbell rings, and it's Carla, the package delivery lady, bringing one of dad's model airplane kits. They flirt shamelessly ... until he says he's married (WTH?) and shows her his wedding band. She's horrified and flees. Kat offers to talk about it, but he won't.

In the schoolyard, Cameron's telling Bianca how he feels about her during a tutoring session, but it's all in French. When he pulls out a bouquet, she has no idea what he's trying to say, but it gives her a fund raising idea: a flower exchange, where students pay the squad $2 to deliver a flower and a note to someone they like (yellow) or love (red). Kind of like Valentine's Day but with rules.

Kat's disgusted with the idea and how it'll make people feel, so she asks Bianca what she'll do if she doesn't get flowers. Bianca hadn't thought of that. But Cameron sends her a red flower with a note that asks her out on a date, and Joey's sent her a yellow flower ... but Chastity intercepts them both. Then she won't let Bianca see the notes she's only the mascot, after all.

In the girls' room again, Kat's telling Mandella how much she hates the flower exchange, when the weird guy, aka the "pervy troll," pops out of a stall again with his special brand of chitchat. They throw trash at him and leave. Moments later, a horrified Bianca gets passed up during flower distribution. Then Kat walks into her own classroom and sees Patrick standing behind her chair. She ignores him until she sees the red flower on her desk. The note says "Look behind you." She's surprised and very psyched, but before she can turn around, he's walked away. The troll slides into the chair and says something pervy. She stalks out of the classroom, as Mandella and Patrick both watch her go.

The next day, Cameron's worried because Bianca hasn't responded. Then he sees her and, when she hears he sent her a flower, she realizes what Chastity's done. That means she might have gotten other flowers! He suggests she reveal Chastity's deed and start a rebellion on the squad. He also tells her how incredibly awesome she is, and she misses his point ... again.

Kat finds pervy troll trying to slip a note into her locker, and now she's really had enough. She grabs him, but he's already got a black eye. He looks terrified and runs off. The note is an apology, signed "XO, Charlie Woo."

In the locker room, trying to call Chastity out, Bianca hasn't even gotten to her point yet, and the other girls are looking at her like she's an idiot. So, instead of talking about the flowers, she ad libs: "Michelle said you're too fat to be on top of the pyramid." The girls confirm it, and suddenly there's a rift between Chastity and her No. 2 girl. Score one for Bianca!

Dr. Stratford answers the door again, but it's not Carla. She's asked to be transferred off the route.

Back in the school parking lot, Patrick vrooms to a halt right in front of Kat. She tells him she doesn't need him beating people up for her, and he laughs and says he hasn't beaten anyone up. Now she's totes confused, and all she can say is, "Helmet!" He puts it on and roars off. Mandella walks up: What was that all about? She can't hang out though, because she has detention. For, uh, for her graffiti. As she watches Kat walk away, Mandella's icing her bruised fist ... but why?

And as we close the episode, Kat sternly tells Patrick and the breezy blonde on the back of his bike that they "really should be wearing helmets." Oh, and as Kat drives away, Chastity's bumper mysteriously falls off ... again.
Continue Reading